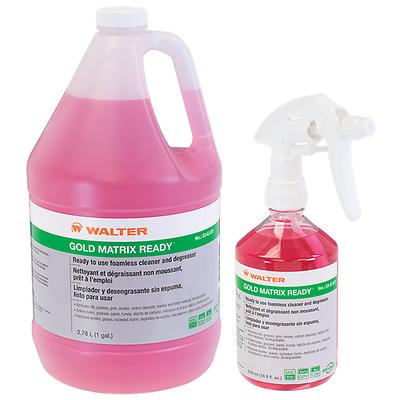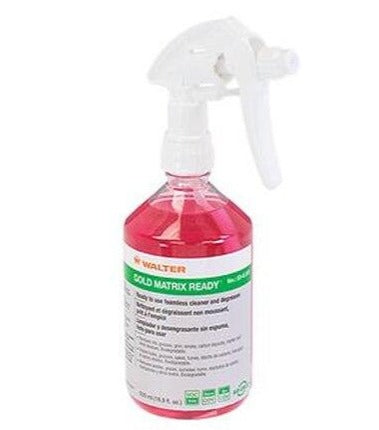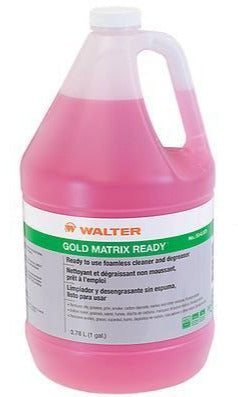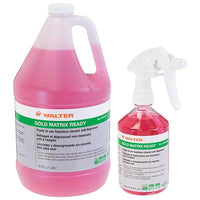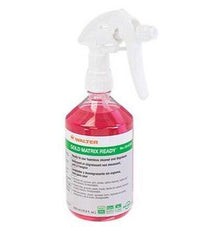 Walter Gold Matrix Ready - All Purpose Surface Cleaner
Regular

$7.00
Sale

$7.00

Regular
Unit Price

per
Walter Gold Matrix Ready™ 

All-purpose cleaner and degreaser

GOLD MATRIX READY™ is a foamless surface cleaner and degreaser formulation which makes it ideal for applications where foaming could interfere in the cleaning process. Ideal for trigger sprayer applications, hot parts washers, ultrasonic baths, dip tanks, floor cleaners and pressure washers. Removes oils, greases, organic contaminants, pigment coating, markers, smoke, dust, carbon deposits and more.

Features:
 Built-in corrosion inhibitors to prevent flash rusting
Foamless for high-pressure or agitation cleaning systems
Nontoxic, nonflammable, VOC-free
Cleans parts efficiently and most of all safely
Effective ready-to-use formula
Foamless formulations
Water-Based. Solvent-free. Phosphate-free
High strength formula, ready to use
Can withstand heat up to 90°C (194°F) for maximum cleaning
Safe for use on the following materials:
Concrete
Plastic
Stainless steel
Steel
Non-ferrous metals
Applications:
Removal of oils and greases from ferrous parts
Facility maintenance
Removal of organic contaminants
All hand applied cleaning tasks
Cleans floors, walls, tables, etc.
Neutralizes residual acidic components of weld cleaning solutions
Options:
500 ml sprayer bottle - 53-G 073
3.78L Container (1 gal) - 53-B 005