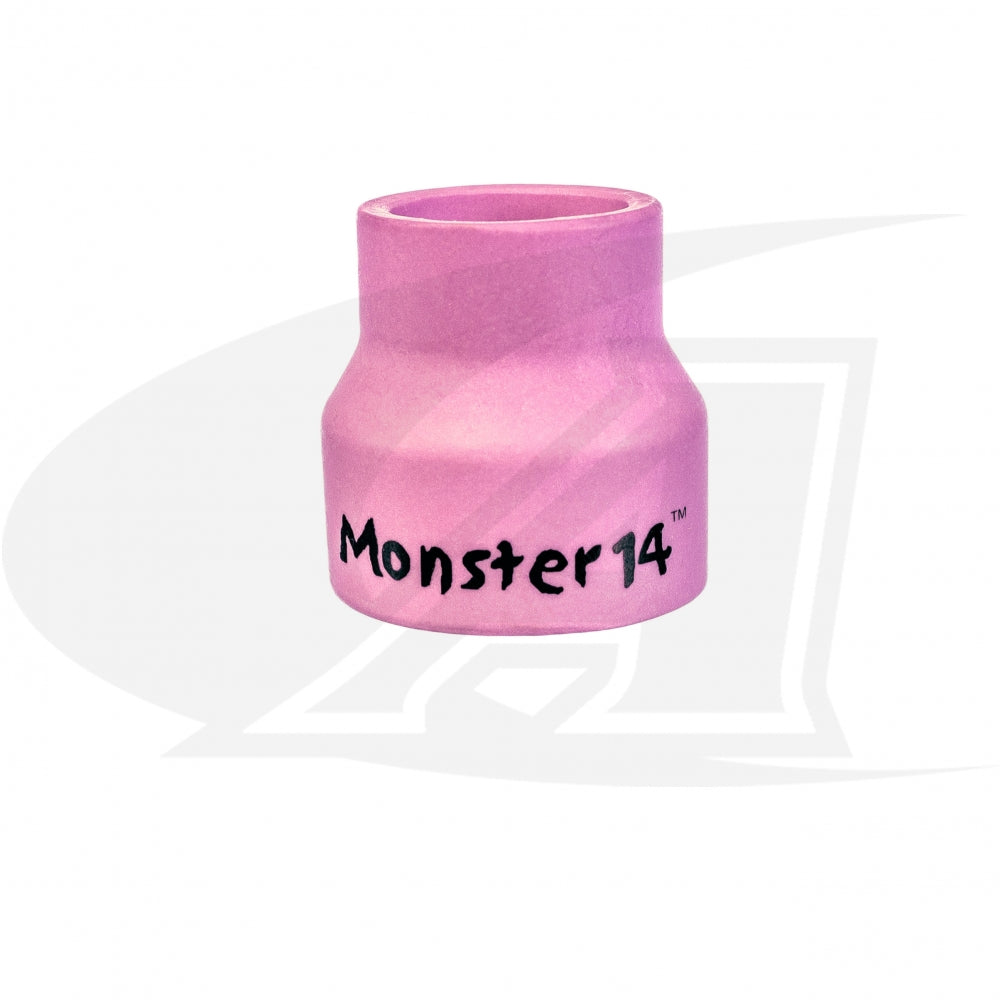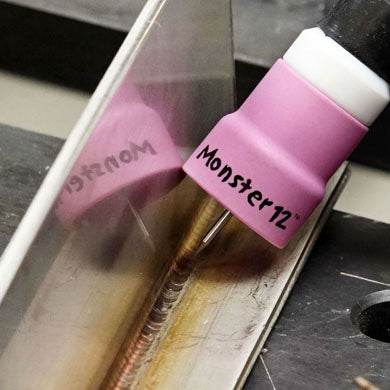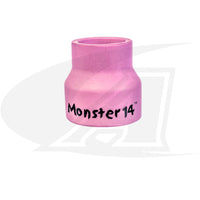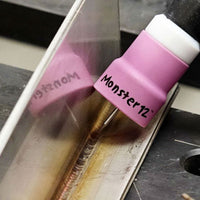 Monster #14 Replacement Cup (2/Pack)
Regular

$55.00
Sale

$55.00

Regular
Unit Price

per
Monster #14 Replacement Cup
Replacement Monster™ Cup with Installed Screen Stack 
Monster14™ TIG Nozzle. #14 = 7/8" (22.2mm) Gas Orifice x 1" (25.4mm) Long. Engineered to deliver a coherent stream of shielding gas for improved weld-quality and consistency. 
If you're welding exotic materials such as Titanium, Inconel, Hastelloy, Monel, Stainless Steel, Chromoly, Docol R8, etc., then these cups may be exactly what you need to improve gas coverage, arc stability, tungsten stick-out, and visibility. Monster™ Nozzles are used by top metal fabricators worldwide!
Cup Kit Includes:
| Part # | Electrode Diameter | Package Quantity |
| --- | --- | --- |
| A-MN14-116X2 | 1/16" (1.6mm) | 2  |
| A-MN14-332X2 | 3/32" (2.4mm) | 2  |
Monster™ Cup Best Practices, Set-Up Tips, Do's & Dont's!
The Monster™ Cup works best with Arc-Zone's high-quality gas lens collet bodies
The Monster™ Cup is designed for Argon flow rates between 15-30 CFH (cubic feet hour)
Do Not Exceed 175 amps for extended periods of time!
The Monster™ Cup is Not designed for welding with AC current!
Minimum tungsten stickout of 3/4" (19mm) -- Shorter stickout may result in damage to the screen stack
Use a medium or short back cap ONLY. (Long back caps are known to trap atmosphere in the top of the cap)
Do not adjust the positioning, or modify the Screen Stack in any way
Monster™ nozzles are designed for precision TIG welding applications where increased shield gas coverage and tungsten stickout are needed. They are not designed for heavy-industrial pipe welding applications. 
Arc-Zone does not make any claims or guarantees of weld-quality improvements, or level of shield gas coverage. Results may vary, due to: weld station set-up, material preparation, gas quality, gas flow rates, flow meter type, gas hose material, welding machine, TIG torch, operator's torch handling technique, etc.
Compatible with most popular TIG torch models.