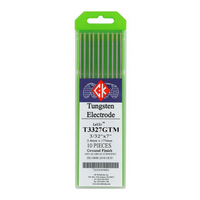 CK Worldwide LaYZr (Chartreuse) Tungsten
Regular

$7.00
Sale

$7.00

Regular
Unit Price

per
LaYZr™ (Chartreuse) EWG tungsten for TIG welding
CK worldwide's LaYzr Triple Mix tungsten helps to produces premium quality welds by offering the best arc stability under all conditions.  Tested and used by some of Canada's top TIG welders CK's proprietary blend is a must try for all professional welders.  Suitable for Alternating Current (A/C) or Direct Current (D/C) on Inverter and transformer based constant current power sources.  It is good for low-alloyed steels, non corroding steels, aluminum alloys, magnesium alloys, titanium alloys, nickel alloys, copper alloys.
Principal Oxides: 1.5% Lanthanum, 0.08% Yttrium Oxides, 0.08% Zirconium
Non-Radioactive
Very stable tip geometry, runs cooler than 2% Thoriated and lasts longer
Offers the very best low amperage starts
Often used for automated or robotic applications due to low voltage tolerance (changes in tip to work piece distance)
Sold in qty of 10 pieces
Tungsten electrode length is 7"

Available diameters:
0.020" (0.5 mm)
0.040" (1 mm)
1/16" (1.6 mm)
3/32" (2.4 mm)
1/8" (3.2 mm)
5/32" (4.0 mm)