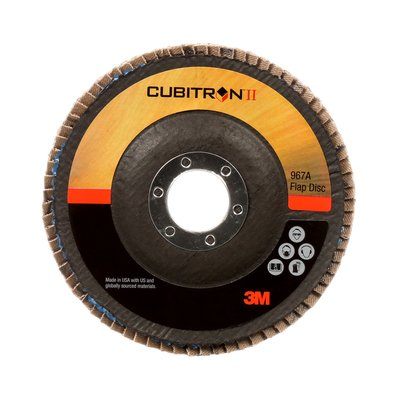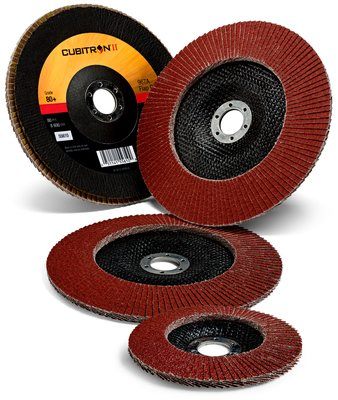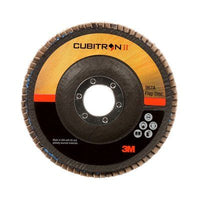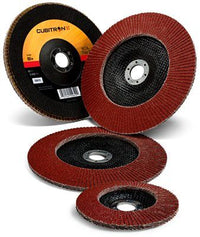 3M™ Cubitron™ II Flap Disc 967A
Regular

$6.00
Sale

$6.00

Regular
Unit Price

per
3M™ Cubitron™ II Flap Disc
3M™ Cubitron™ II 967A Flap Disc capitalizes on the proprietary 3M Precision Shaped Ceramic Grain technology to deliver superior cut rates, while the flexibility of the flap construction enables grinding and blending in a single step.
5% Discount added at checkout for orders of 10+ Discs
Because 3M Precision Shaped Ceramic Grain generates an exceptionally high cut-rate with less pressure, operators can finish tough tasks like weld grinding, deburring, rust removal, edge grinding, weld seam blending and deburring faster with less fatigue. A heat-activated grinding aid on the disc helps keep the disc cooler on stainless steel and other heat-sensitive metals such as nickel alloys and titanium, thereby reducing metal discolouration/oxidation and the chance of heat-related stress cracks.
The superior performance and durability of 3M Precision Shaped Ceramic Grain is enhanced by a uniquely designed heavy Y-weight poly-cotton backing that enables controlled, even wear with no premature dulling or glazing, so operators can accomplish more throughput per disc.
Type 27
7/8 Bore
40, 60, 80 Grit
4-1/2", 5", 7" Diameters