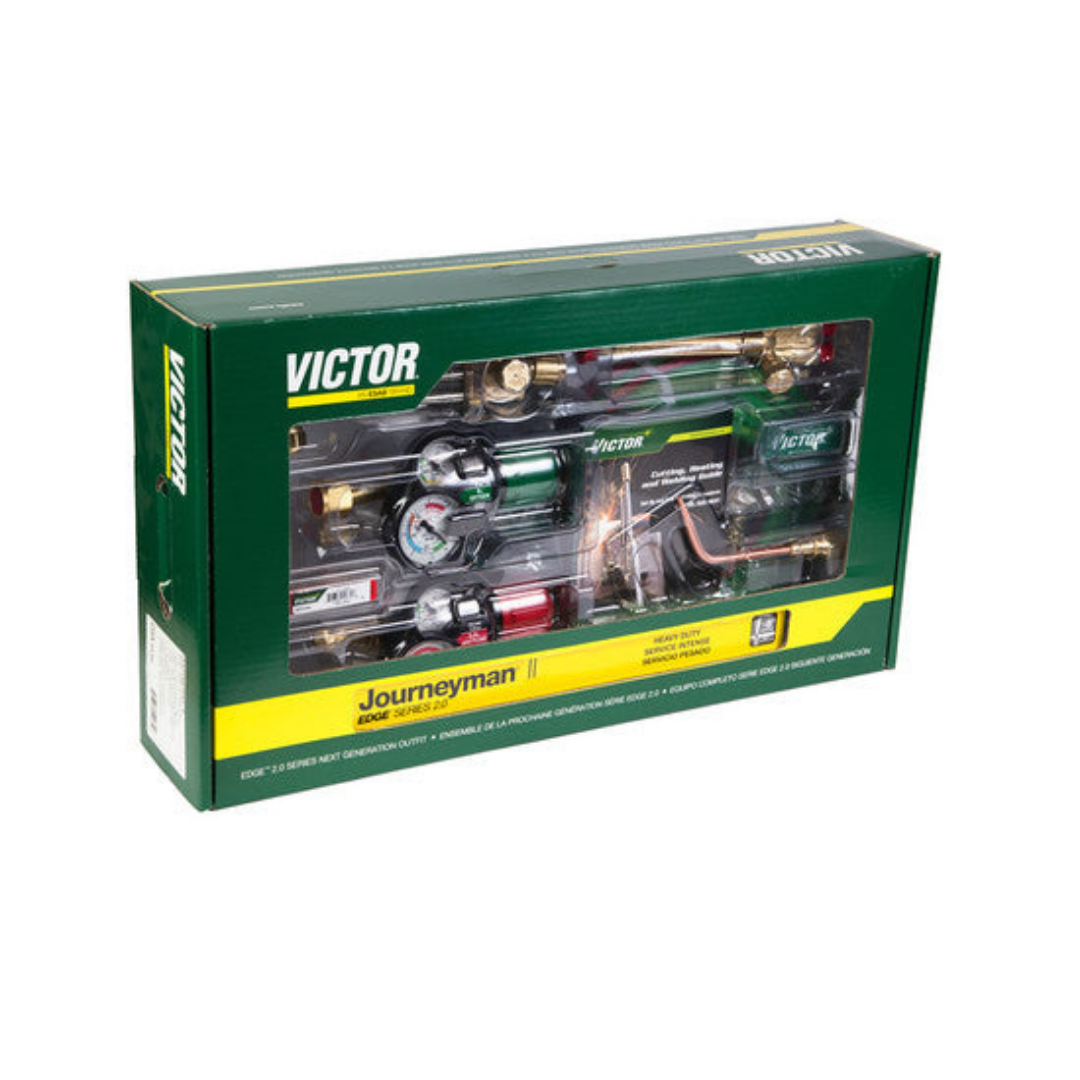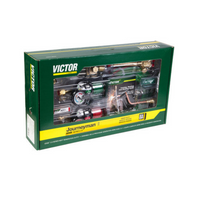 Victor Journeyman II Edge 2.0
Regular

$600.00
Sale

$600.00

Regular
Unit Price

per
Victor Journeyman II Edge 2.0
October 1 - December 31, 2023 - Purchase a Journeyman Kit and receive a $65 rebate.
Rebates issued by ESAB, see esabburnandearn.ca to claim your offer. 
Cutting & Welding Outfit
The robust Journeyman II EDGE 2.0 Outfit comes with everything you need to get started: CA 2460+ cutting attachment, WH 315FC+ welding handle, cutting tip, tip cleaner, striker, goggles, hose, welding nozzle and two EDGE 2.0 regulators. This heavy duty outfit cuts up to 8" (203.2 mm) and welds up to 3" (76.2 mm) with
accessories.
ESS42 Series regulators

WH 315FC+ torch handle with built-in flash arrestors and check valves

CA2460+ cutting attachment
1-1-101 Cutting Tip (Acetylene kit only)
1-GPN Cutting Tip (Propane/Natural Gas kit only)
1-GPP Cutting Tip (Propylene kit only)
#2 Welding nozzle - (Acetylene kit only)
8-55 heating tip (Propane/Propylene kits only)
High resistance to oxygen related fires
SLAM knob absorbs impact in the event of a cylinder fall
Hose length - 20 ft.
CGA 540/510 - Model No. 0384-2111 - Type R Hose

CGA 540/300 - Model No. 0384-2110 - Type R Hose

CGA 540/510LP - Model No. 0384-2112 (Propane) - Type T Hose

What Else?
New and improved gauge design incorporates larger faced delivery gauges with high contrasted coloured faces for easy setting. Enhanced colour-coded knob designs provide more comfortable operations.. Extra large 2 ½ in. (63.5 mm) delivery gauge and stainless steel diaphragm with robust seat gives optimum performance, consistent pressure and flow delivery. 

Additional Series 1 Cutting Tips