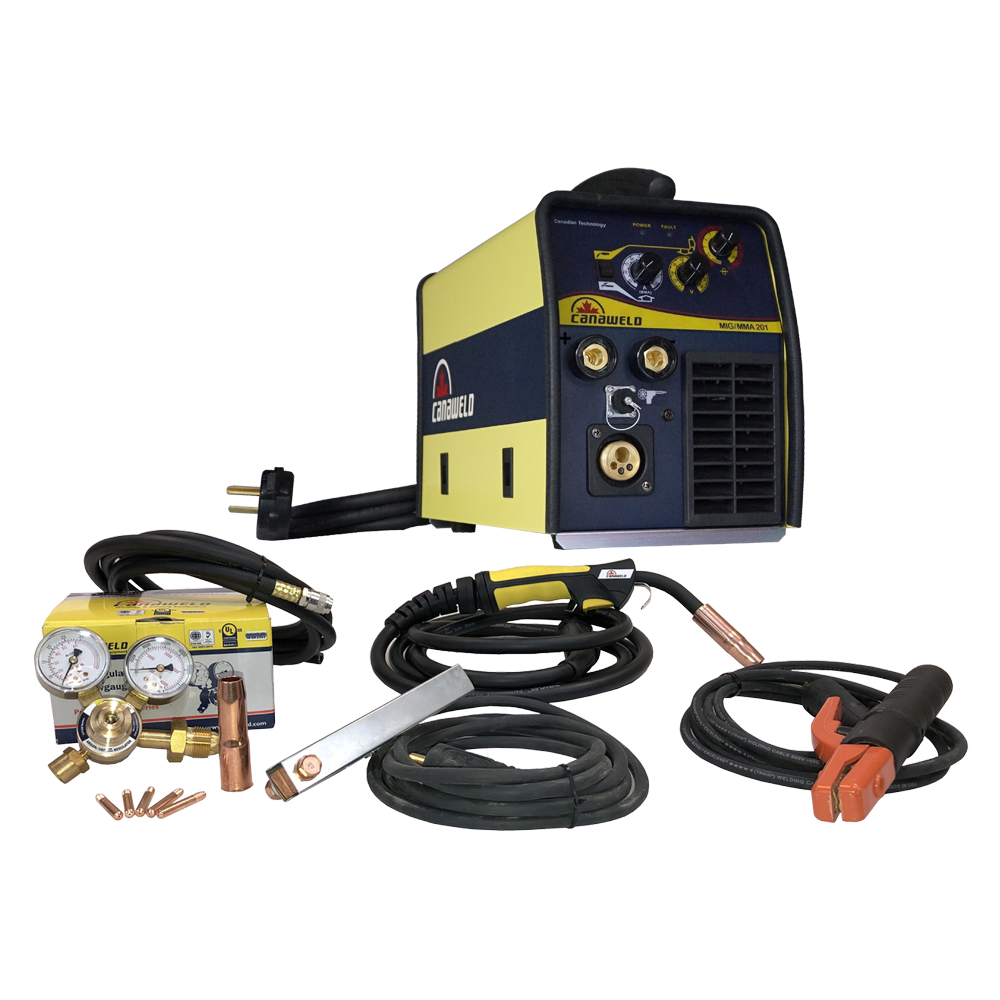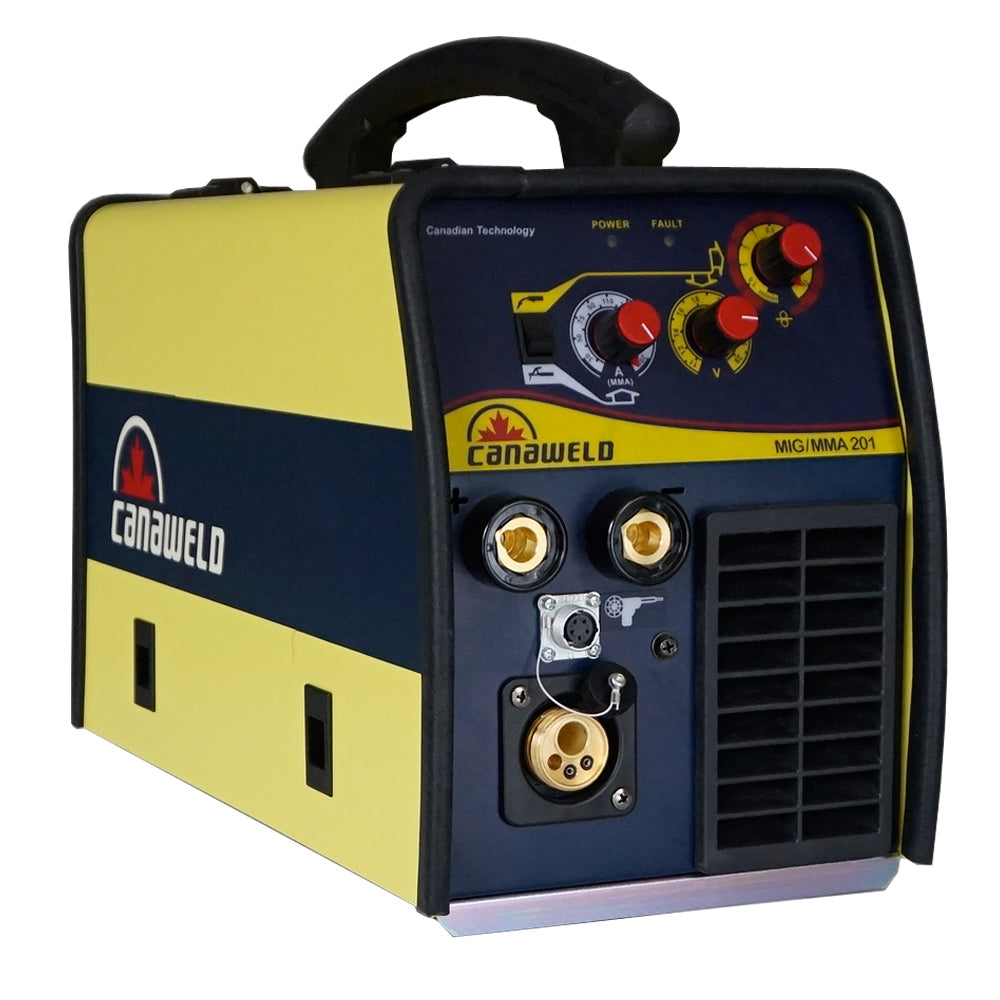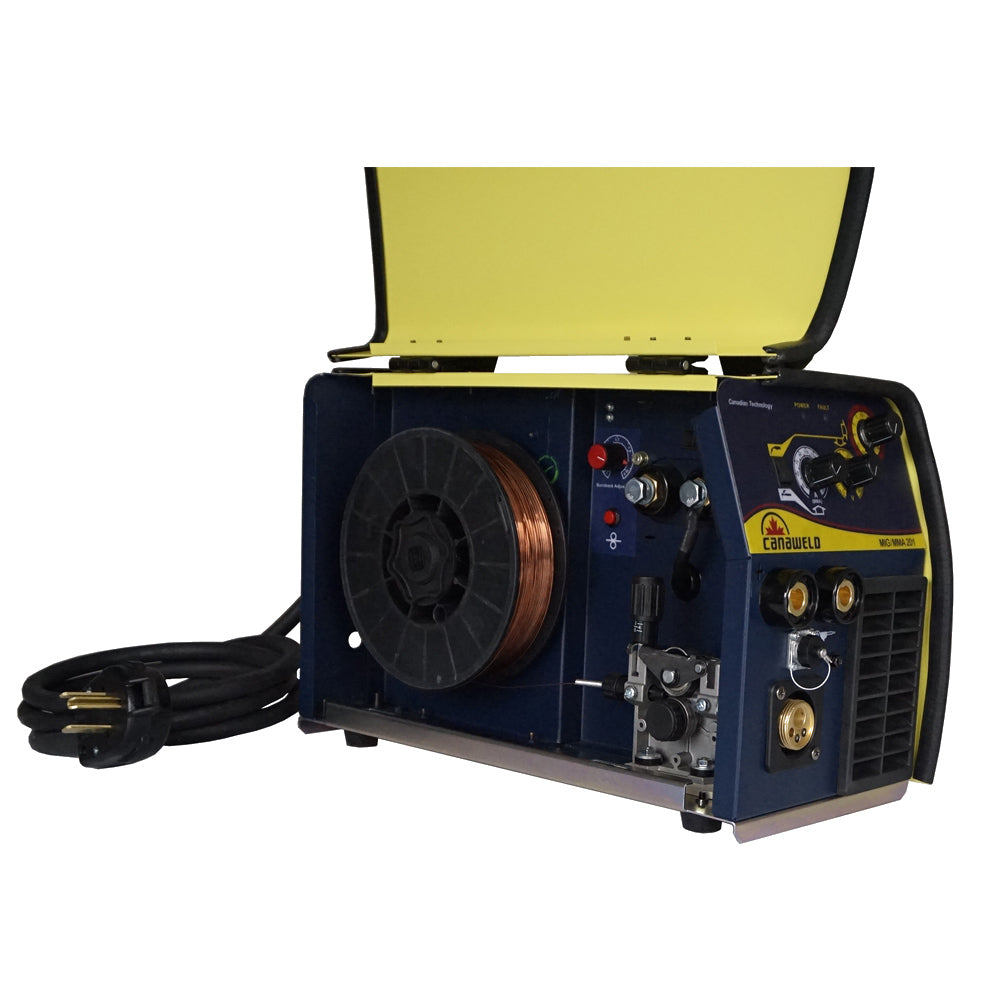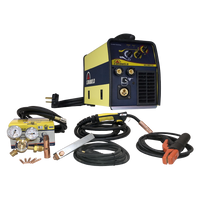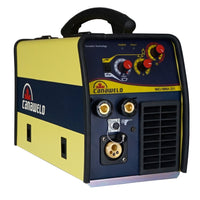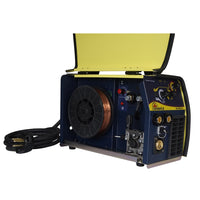 Canaweld MIG-Stick 201, 200 Amp MIG Welder
Regular

$1,341.00
Sale

$1,341.00

Regular
Unit Price

per
Canaweld MIG-Stick 201
The Canaweld MIG/Stick (MMA) 201 is a multi function 200 amp welding machine for MIG, flux core and stick welding.  The power source features curves for solid wire Ø 0.023"/0.030"0.035"/0.040" and Ø 0.035"/0.045" flux cored wire.  The MIG 201 allows welding of mild and stainless steel, and with a change of wire feed rolls you can also weld aluminum.  A spool gun option is also available for welding with 1 lb spools.  
Compact design (Built-in wire feeder)
DC power source
Ability to adjust the welding current and voltage continuously
2 stroke /  4 stroke
Stability of welding parameters even at input voltage fluctuations
High duty cycle
Built for commercial/industrial, farm, and hobby use
Constant voltage characteristic and stable arc
Ability of welding of non-ferrous metals and alloys
Flux core wire welding with or without shielding gas
Easy polarity reversing for flux core welding
Excellent welding of thin metals
Excellent arc striking and made possible with soft start technology
Compact and light due to the use of advanced inverter technology
Strong metallic plate ensures reliability during feeding of wire
Heavy duty wire feed motor
Control of wire speed by feedback and brake
Manual wire feed button for easy wire loading
Heavy duty NEMA 6-50 Plug
3 year Canaweld warranty on power source
1 year warranty on torch
Standard Package comes complete with: 
Work/Ground Clamp Set - ALP1980126

Electrode Holder Set - ALP2280095

MIG Torch - CM-T200E  (TGD0180150)

Gas Flow Regulator - TLJ1080187

Gas Hose - TLJ1080188

*Please note - Machine Bag - TGJ2780145 is not included*
Process
Stick Electrode
MIG/Flux Cored (with/without Gas)
Input Voltage 50/60 Hz (V)
Single Phase 230V (+10/ -15 %)
Primary Current @Max Welding Current
38A
34A
Maximum Primary Effective Current (Maximum I 1 eff)
29A
27A
Welding Current Range
10-200A
40-200A
Duty Cycle @ Maximum Welding Current (40°C /140°F)
35% (200A)
35% (200A)
Welding Current @100% Duty Cycle (40°C /140°F)
160A @100%
170A @100%
Welding Current @60% Duty Cycle (40°C /140°F)
180A @60%
190A @60%
Open Circuit Voltage
52V
Output Voltage Range
20.4-28V
16-24V
Wire Feed Speed ipm (m/min)
16 (630)
Solid Wire Size Range inch (mm)
.030 – .045 in (0.8 – 1 mm)
Cored Wire Size Range inch (mm)
.030 – .045 in (0.8 – 1 mm)
Material of Wire Feeder Plate
Metal
Wire Spool Weight lb (kg)
11 (5 kg) / 33 (15 kg) as option
Dimensions (H x W x D) (Inch/mm)
(16.3 in x 5.9 in x 10.0 in) / 505 mm x 235 mm x 310 mm
Weight (lb/kg)
32 lb (14.5 kg)
Canaweld keeps the right to change the specifications of the products without notice.