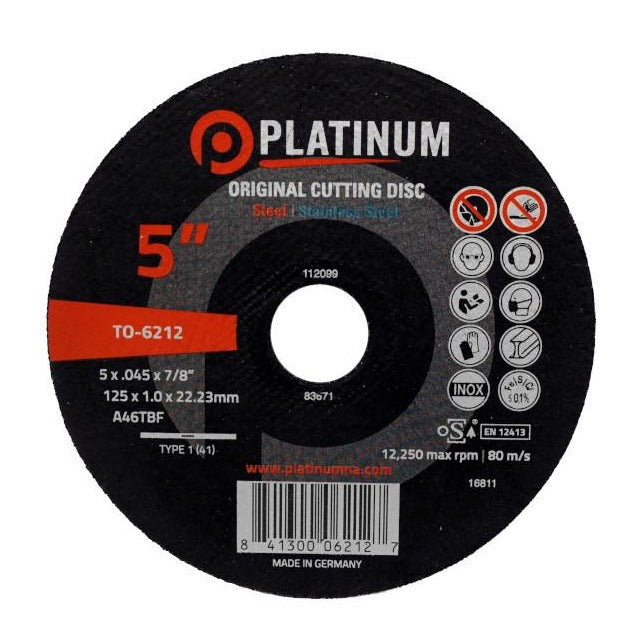 Platinum Original Cutting Discs
Regular

$2.00
Sale

$2.00

Regular
Unit Price

per
Platinum Original Cutting Discs
5% Discount added at checkout for orders of 25+ Discs
WHY USE PLATINUM ORIGINAL CUTTING DISCS?

Excellent disc life and value for money
Smooth & safe cutting
Optimum performance on both mild and stainless steel
APPLICATION INFO
For steel and stainless-steel
7/8 Bore
0.45" Thick
Type 1 (Flat Center) or Type 27 (Raised Center)

WHAT ELSE?
Metal center rim for maximum strength & safety
TAIPAN Original Series: no quality shortcuts and great value
Made in Europe
DID YOU KNOW?
Platinum discs are developed through a rigorous and demanding process and the Original Series cutting disc was released after 12 months of extensive R&D
Platinum-Taipan Abrasives Group has testing facilities in several countries and utilize the latest CNC testing equipment to test and compare disc performance
Extensive user trials are also conducted, to determine how the discs perform in real life across a number of performance categories, such as: blade life, cutting speed, ease of cut, robustness and resistance to fracture.  The result? A tried and tested product
Options
4 1/2"

 - Type 1 - AS46S-BF - 4-1/2" x .045" x 7/8" - 13,300 rpm

5" - Type 1 - AS46S-BF - 5" x .045" x 7/8" - 12,200 rpm

6" -  Type 1 - AS46S-BF - 6" x .045" x 7/8" - 10,200 rpm
4 1/2"

 - Type 27 - AS46TBF - 4-1/2" x .045" x 7/8" - 13,300 rpm

5" - Type 27 - AS46TBF - 5" x .045" x 7/8" - 12,250 rpm

6" -  Type 27 - AS46TBF - 6" x .062" x 7/8" - 10,200 rpm