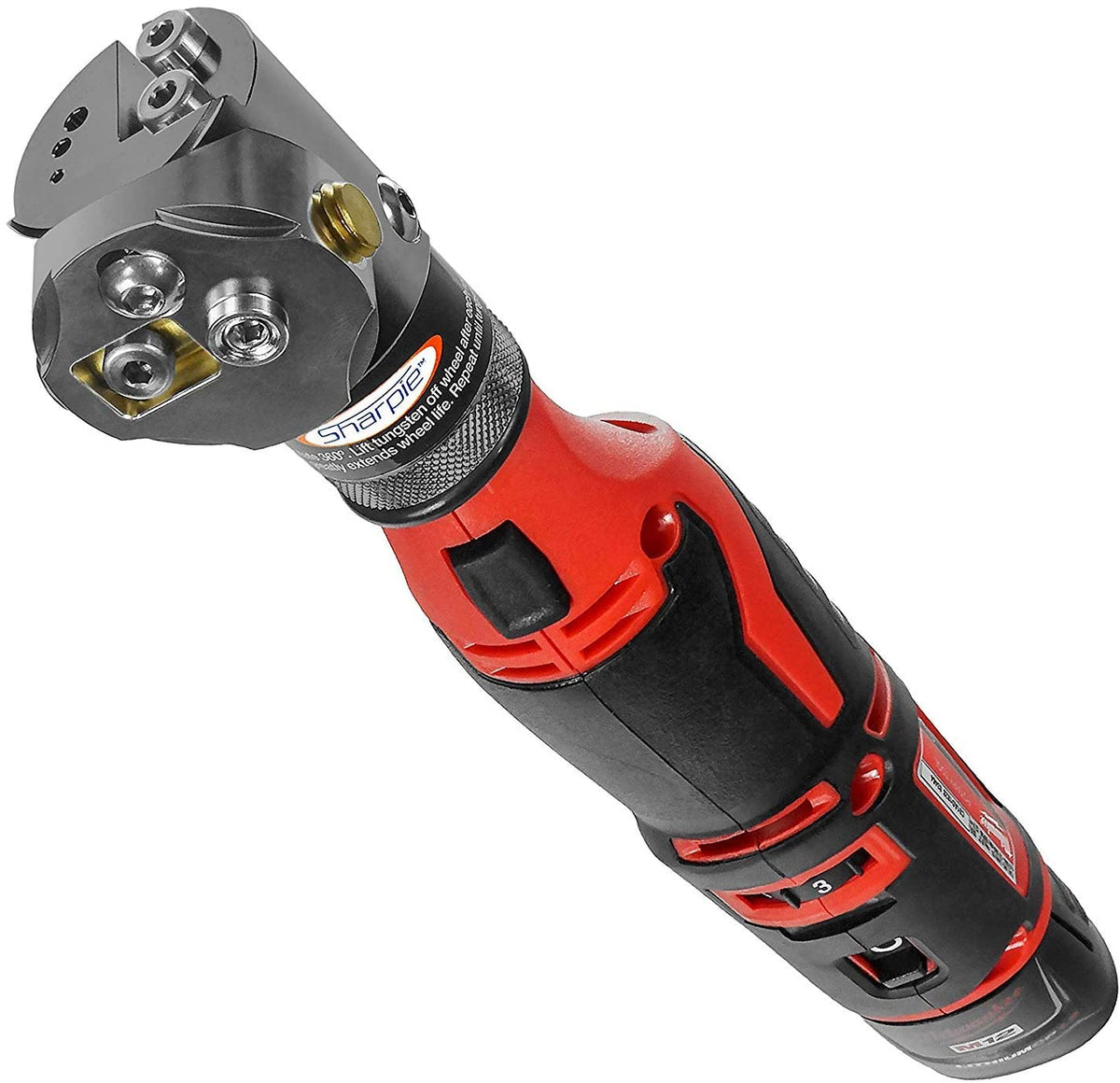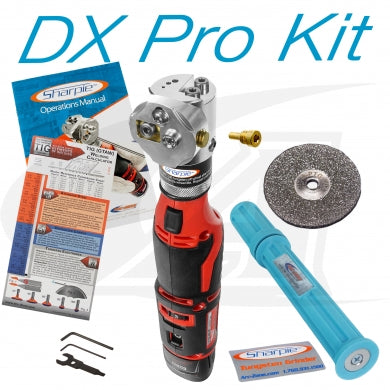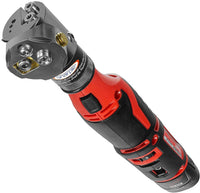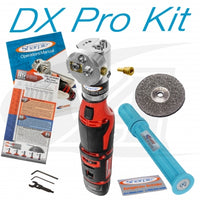 Cordless Sharpie DX Tungsten Grinder Adjustable 15°-45°
Regular

$473.00
Sale

$473.00

Regular
Unit Price

per
Cordless Sharpie DX™ Tungsten Grinder
The Sharpie DXCL™ tungsten electrode grinder Pro Kit with high-quality Milwaukee M12 Cordless Motor featuring a grinder head with adjustable angle from 15° -to- 45° for virtually any TIG welding application.
Pro Kit Includes:
DX Grinder (15°-45° Adjustable Grind Angle)

.040" (1.0mm) Collet

1/16" (1.6mm) Collet

3/32" (2.4mm) Collet

1/8" (3.2mm) Collet

Milwaukee M12 Lithium-Ion Battery

Milwaukee M12 Lithium-Ion Battery Charger

Storage Case

Pro Series TIG Calculator
Part No. A-PTGK-DXCL-BBB-K
Precise Diamond Ground Tungsten:
Sharpie grinders deliver quick and consistent electrode grinds for snappy arc starts, better puddle control and improved weld quality. The double-sided diamond wheel easily grinds tungsten electrode sizes, .040"**, 1/16", 3/32" and 1/8" (1.0mm, 1.6mm, 2.4mm and 3.2mm). **Note: .040" (1.0mm) collet sold separately.
High Quality Tool:
You are investing in a quality product that will deliver years of service. Each Sharpie is built to demanding specifications, we use only the finest globally sourced motors & the majority of the machined parts are made in the USA!
Tip Flat Option:
Tungsten electrodes ground to a sharp point are proven to burn off and cause inclusions in your weld. By Removing the point & adding a tip flat, you get better arc starts, longer electrode tip life & reduced weld contamination.
Cut-Off/Score Option:
The built-in cut-off or scoring option allows you to cut & remove only contaminated portions of the electrode. No more bending or breaking electrodes which causes splintering of the tungsten, reducing electrode performance.
Safe & Easy To Use:
Set your machine up for the job at hand & grind electrodes in the shop or in the field. Enclosed grinding wheel eliminates safety issues common with "side" or "wheel" grinders which can grab the electrode and shoot it back at the operator.
Save Time & Money:
Diamond ground electrodes reduce tungsten consumption and waste. Stop wearing out belts on your sander & grinding deep grooves in your bench grinder wheels. Your shop will be cleaner, safer and more productive. The reversible long-life diamond wheel means low replacement part costs.
Weld Like A Pro Tip™
Frequently re-grinding worn electrode tips improves weld quality & lowers tungsten usage. Waiting until the tip is completely eroded or contaminated, requires grinding off more tungsten material, resulting in higher tungsten usage, costing you time & money.
Minimum Tungsten Grind Length: 1-1/4" (31.7mm)
Adjustable Grind Angle: From 15° - 45°
Voltage: 12V
Charger Primary 120V ~ 60 Hz 750 mA
Charger Secondary Output: 12 V = 3.0 A
Motor Length: 9" (229mm)
Motor Length w/ Head: 11" (279mm)
Weight: 0.9 lbs (0.4kg)
Charge Time: 30 Minutes
No Load RPM: 5,000-32,000