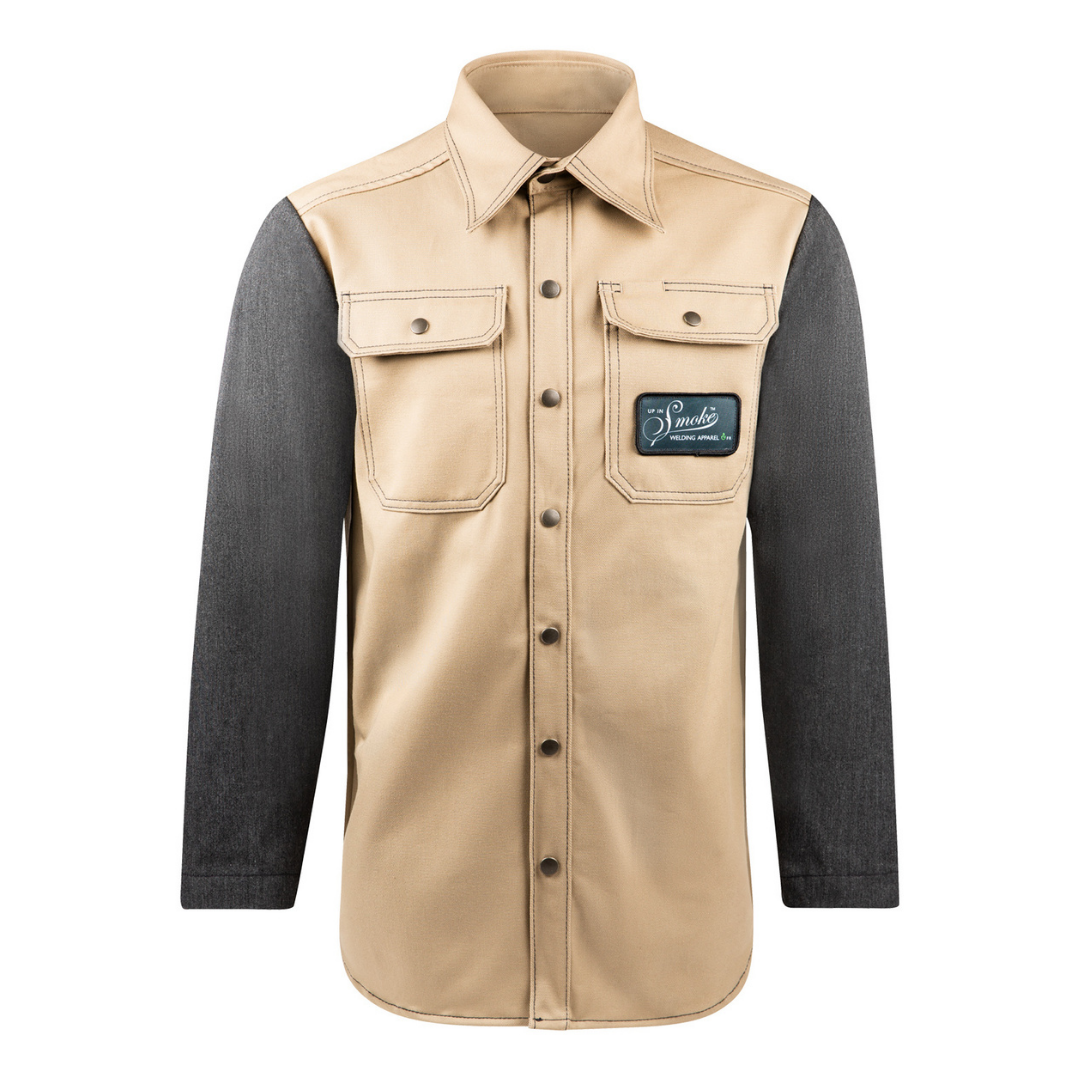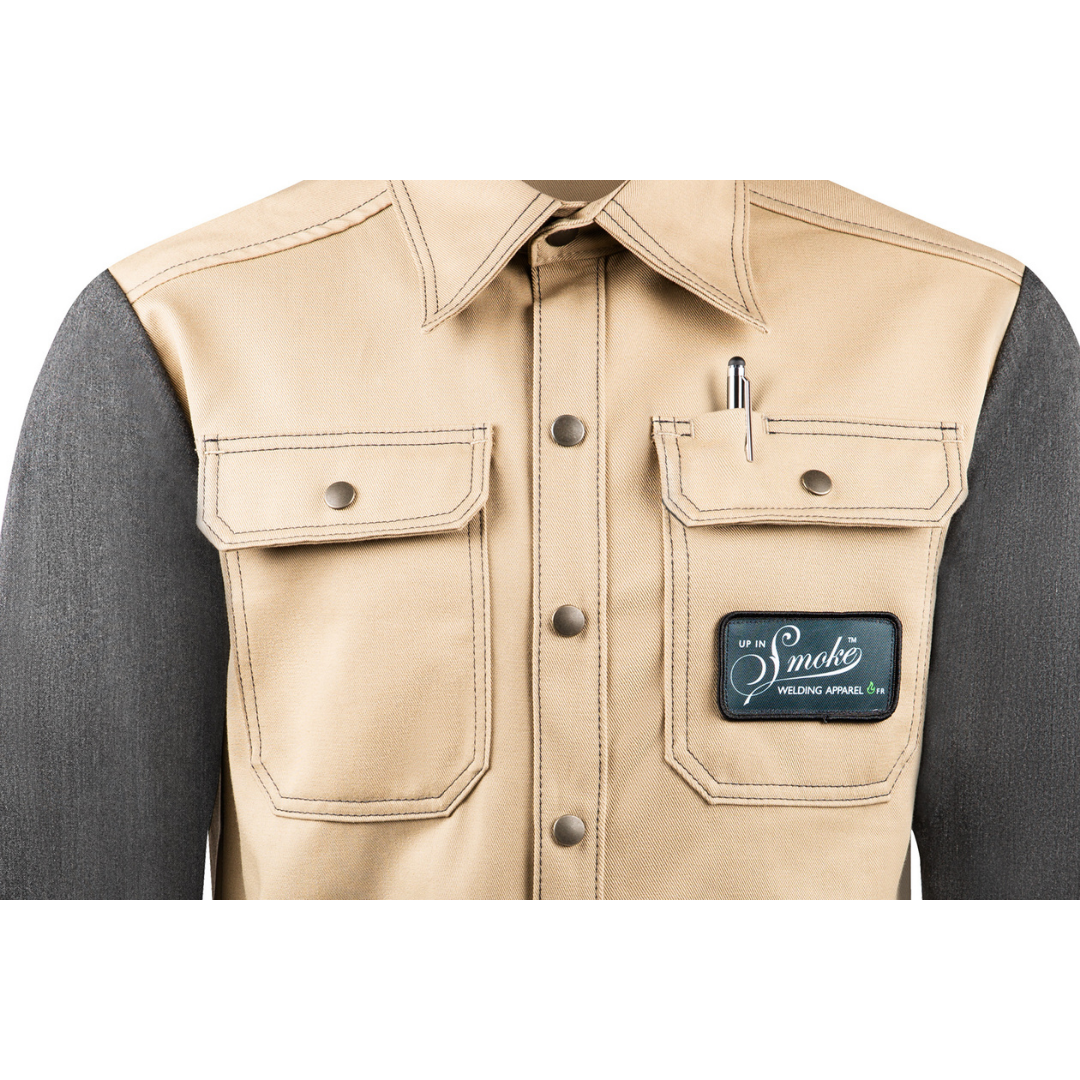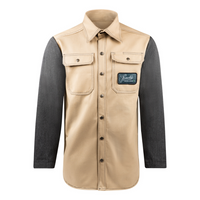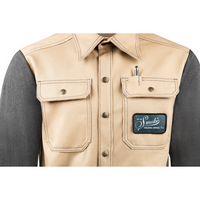 Up In Smoke NOVUS APEX FR Welding Shirt - Khaki
Regular

$180.00
Sale

$180.00

Regular
Unit Price

per
Up In Smoke Novus APEX Welding Shirt
The Apex line was created because we knew that we could build on the already strong foundation of our welding gear. Now that we have done that, we have created the Apex Predator of welding apparel. What sets this newest model of the FR Novus welding shirt apart from its predecessor is the new material application called EPIC Technology from Nextec. Nextec places a silicone barrier "inside" the fabric at the final stage of fabric finishing. The silicone polymers saturate the fabric, and from there the silicone only sticks to silicone. In doing so, each individual fiber bundle is encapsulated. The silicone also fills and sets within the spaces of warp and fill yarns (see a 2000 time zoomed photo in the gallery above).
Why is this so important
EPIC is key in shedding sparks and molten metals
Maintains a high percentage of breathability
Higher abrasion resistance
Longer colour retention
Improved after-wash appearance
Not as easily soiled
Wind resistant
Water resistant
Fast drying
EPIC will always pack dry!
But most importantly, if you want to support welding apparel that's made in the USA, then this product is for you. In fact, all Up in Smoke Welding Apparel is made using materials sourced right here in North America. We are deeply committed to ensuring that North American hands touch our products at every step along the way, from when we design our products to when we fulfil your order.
We know that once you try our products, you'll never buy anything else. Why are we so confident? Because we test, test, test to ensure our products and the materials we use are the best for the jobs we know you do. The Novus welding shirt is designed for welding in warmer temperatures and climates and is a lightweight welding shirt. Trust in the Novus to work with you on the job site, protect you from burns while being a lightweight alternative to leather welding jackets.
6 Reasons To Buy To The FR Novus Apex Welding Shirt:
The FR Novus is light;

 

we use

 

lightweight FR twill in the body and use

 

CarbonX Repel in the high wear areas.
We think like welders because we are welders; we place protective materials in the best places to help

 

protect you from burns. Placing this material only where you need it cuts down weight and bulkiness while delivering the protection you need.
Welding apparel that's stronger than steel;

 

we use heavy

 

Kevlar

 

and Nomex stitching to ensure our products can tolerate almost anything your job throws at it.
A welding shirt that's designed right;

 

our design includes a natural bend in the elbow for flexibility, dual layer sleeves, and an extended rear tail.

 

A leader in welding wear;

 

Up in Smoke Welding Apparel performs better than anything on the market, however, our garments are not indestructible. Our goal is to keep you protected and depending on the welding job that can be weeks, months or years.
No, no to the newbie;

 

if you're newly entering the welding trade first and foremost – congrats! We recommend you try our FR Testudo Jacket as it offers more protection where you need it.
Carbon X CR-80 Repel Data Sheet
Whether you're pipelining in Texas, California or overseas, burning rod in a fab shop in Canada or Minnesota, or if you're a welding hobbyist, artist or groupie, then Up in Smoke Welding Apparel has the best product for your welding job. Buy the FR Novus now, and you'll be happy you did.
We believe welding isn't just a job or a career. It's a brother and sisterhood, a family, a community of people who get it done. It's our job to ensure you have the best welding apparel on the market so that you look good, stay protected and get home to what matters most.